Coming : "Survivors Of Suicide Loss" meetings in Albuquerque
3rd Monday July 18th
1st Monday August 1st and 3rd Monday August 15th
♦ At : Shepherd of the Vally Presbyterian Church, 1801 Montano Rd NW, Albuquerque ♦
. . . . . . . . . . . . . . . . . . . . . . . . . . . . . . . . . . . . . . . . . . . . . . . . . . . . . . . . . . . . . . . . . . . . . .
• ADDITTIONAL SURVIVOR MEETINGS IN NEW MEXICO •
- SURVIVORS OF SUICIDE -
> Albuquerque : 2nd & 4th Saturdays, 1:00 - 2:30 : Desiree @ 505-344-4343 <
> Santa Fe : 1st & 3rd Thursdays, 5:10 - 6:30 : Janet @ 505-690-1698 <
> Las Cruces : Margaret for Information @ 575- 521-5579 <
---
" SHARING AND HEALING "
April 2016
A Newsletter for Survivors of Suicide Loss
Written & Edited by : Al & Linda Vigil
IN THIS ISSUE
Pg 1 : Grieving Notes - Al V. Pg 2 : Emptiness Inside Your Heart Pg 2 : Adult Grief
Pg 3 : Isaiah 60:20 & April' Suicide Pg 4 : Eight-year-old Suicide
Pg 5 : Understanding Survivors of Suicide Loss Pg 7 : A Friend Is Someone Who Understamds
Pg 8 : Explaining Suicide To A Child Pg 10 : Coroner - Part of Prevention
Pg 12 : About SOSL and Meetings
---
GRIEVING NOTES
Al Vigil
A new phrase 'complicated grief' is rapidly finding itself very popular in reference literature relating to a suicide death.
Before the suicide of our 18 year old daughter, Mia, we had of course lost others that we love ...grandparents, aunts, uncles, friends. Like all people, we experienced a normal grief and bereavement period of sorrow and numbness. Losing someone we love to death, is one of the most distressing and, unfortunately, common experiences people face.
Complicated grief is added with the guilt and anger, abandonment and blame, that is easily associated with a self-chosen death. These feelings are the most difficult to ease, and it can interrupt the acceptance loss, and thus move forward. People follow different paths through the grieving experience. The order and timing of these phases varies from person to person. With a suicide, the feelings of loss can be debilitating and sometimes don't improve even after time passes.
Complicated grief can be clearly defined as a complex bereavement period. In complicated grief, painful emotions are so long lasting and severe that you have trouble accepting the loss and resuming your own life. We have added guilt. We have difficulty accepting the reality of loss to suicide. Sometimes we ahve a long length of time adjusting to a new reality in which the deceased is no longer present. We have a hard time talking about the suicide loss with those who have not experienced such a loss.
Discussing your suicide loss, with other survivors like you, can help you come to terms with your loss and reclaim a sense of acceptance and peace. There is incredible healing in allowing yourself to experience the pain of your loss with others.
Survivors of Suicide Loss groups are dedicated to providing information and support to assist in the grieving and healing process. It is a support group of people who help one another through the stages of complicated grief related to suicide.
— In Sharing and Healing : Al V.
---
---
I think the hardest part of losing someone,
isn't having to say goodbye,
but rather learning to live without them.
Always trying to fill the void, the emptiness
...that's left inside your heart when they go.
— Contributed by Melinda White
---
---
Adult Grief - By David Kessler
When a parent of an adult dies, some view it as a rite to passage. Some feel you should take that death in stride, handle loss in an adult manner.
What does that mean? Not be sad? Be grateful Dad didn't die when you were a child? That would be underestimating grief. Loss does not diminish because you are an adult or because your mother or father lived a long life.
Here's what most people don't understand: Whether our partents live near or far are emotionally close or distant, they anchor us in the world. Even though we know they will die someday, most of us can't fathom a world without them. Can you imagine a world without a sky? Of course not. It has always been there.
Often we lose a parent after a long illness, but sometimes the death is sudden. For some the call comes on an otherwise idle Thursday. Out of the blue, our world tuns upside down without warning. How can this be? Mom was fine, and now she is not. Dad was here, and now he is not.
Sudden loss compunds the loss. That's because there is no preparation, no goodbye, just the loudest absence one could ever imagine. As a result, in sudden death, the denial will be longer and deeper. The more sudden the death, the longer it may take to grieve the loss. Give yourself that time.
Our society places enormous pressure on us to get over loss. But how long do you grieve for your mother of 40 or more years? The answer is simple: You grieve for as long as you need to.
---
---
Isaiah 60:20 and April's Suicide : A Personal Expression
submitted to Sharing and Healing Newsletter by Don Neidigk
"Your sun shall no more go down, nor your moon withdraw itself;
for the Lord will be your everlasting light,
understanding Survivors of Suicide Loss
and your days of mourning shall be ended." — Isaiah 60:20
It was nearly three months after my daughter-in-law took her life before
I found myself feeling somewhat normal again. I attended a variety show at a local
high school and laughed, something I hadn't done for a while. I was having a lot of fun with my grandchildren. Then some random events triggered intense emotions. Sirens in the middle of the night woke me up giving me flashbacks of the sounds
I heard on the tragic morning April died.
A day or two after that my three year old granddaughter Ely started asking if Mommy lived at her old house or if she lived in the church on the hill where people worshipped Jesus. Next, my daughter-in-law's sister Heather brought picture albums by for me to keep for Ely so she could remember her Mommy. So I started crying all over again. To myself I said, "I thought I was over this. Will the sorrow ever end?"
Yes, says Isaiah prophetically. I had grieved my loss for only a few months. But Israel, of which Isaiah literally speaks, would grieve its loss of nationhood, its freedom and the deaths of countless loved ones for more than half a century before the Persian king Cyrus would allow the survivors to return to their land and rebuild their homes. Eventually though, Israel's darkness would indeed turn to light and the people's joy would return, just as God promised through Isaiah.
I see Isaiah's promises of an end to mourning and the return of light as a hopeful metaphor for survivors of suicide loss. God has not forgotten or abandoned us though it may seem that way. His love and presence remain with us. The coming of Jesus who carried our sins and sorrows to the cross and who rose again on Easter morning offering new life to all is God's promise that we are remembered and that beautiful days of light and joy will most certainly return.
It was decades before the joy returned to Israel.
It may be a long time for us as well, but the light and joy will return. God says so.
"Lord, hold me close to your heart even in those dark moments when I wonder if You care.
Deliver me from despair and help me await the sunshine of your love and the return of joy.
In the name of your Son Jesus, amen." ,,,,Don Neidigk
---
---
EIGHT-YEAR-OLD SUICIDE in Las Vegas, Nevada
: Edited from several news reports
The death of a Las Vegas valley 8-year-old boy has been ruled a suicide. The Clark County Coroner's office says it's the youngest suicide in recent years. What is so shocking about the Singleton case is his age. According to the coroner, Clayton Singleton's death was intentional. The boy shot himself in the head on Oct. 10 at his family's southwest valley home. Metro Police say Singleton was home alone with his 6-year-old sister when he shot himself. The parents were not at home.
He was one of the 350 people who have committed suicide this year in Clark County.
Seven of those were under the age of 18.
Neighbors who lived just doors away from the boy's family are in disbelief over the coroner's finding.
"It makes no sense to any of us because we saw him playing out with the other kids. He was always happy and always had a smile," said neighbor Julie Davis. "While my heart goes out to them, I would also like to ask them what were you thinking." Davis said. "That makes no sense in my head. They were way too young."
Earlier this week the Coroner's Office ruled the death a suicide. What factors lead to that ruling remain confidential in what is still an ongoing police investigation. There are also questions about how the boy got hold of a gun. Police said the gun belonged to a family member. Authorities released a statement saying the death was ruled a suicide after a comprehensive investigation which included statements and physical evidence.
The Center for Disease Control says several factors increase the risk for youth suicide. Those include: history of previous suicide attempts, family history of suicide, a history of depression or other mental illness, alcohol or drug abuse, stressful life event or loss, easy access to lethal methods and exposure to the suicidal behavior of others. While Clayton's age has drawn attention to his death, suicide prevention professionals say that while not common, suicides among the very young are not unknown.
Dr. Nadine Kaslow, former president of the American Psychological Association and current professor at Emory University in Atlanta, said understanding pre-adolescent suicides is difficult because there is so little data due to how rarely they happen."Anybody can have thoughts of suicide," said Richard Egan, a suicide prevention trainer with Nevada's Department of Health and Human Services. "Anybody can be at risk." Unfortunately, Kaslow said, most children who try to kill themselves don't understand the permanence of their choice. "They have a difficult time appreciating the finality of death in a way that adults typically would."
Egan and Kaslow both say the warning signs for youth are essentially the same as they are for adults, and say to look for things such as changes in attitude, isolation and a loss of interest in things that they used to enjoy.
"What could be going on in their life that could bring them to think that suicide is an option?" Egan said. "It's still some of the same things that we look at for adults. But the different age groups may perceive it differently."
If your child is displaying any of the warning signs, or if you think your child might be having suicidal thoughts,
be willing to talk to them about it, Egan added. "Ask them openly and directly if that's what they are thinking. If that is what they're thinking, then connect them to resources. If that's not what they're thinking, help them with their life crises."
---
---
Understanding Survivors of Suicide Loss - Suicide is A Death Like No Other
: By Deborah Serani, Psy.D.
Grief is a universal experience all human beings encounter. Though death inevitably touches our lives, research shows that many people grieve in varying and different ways. From the textures of emotions, to length of time in mourning, to even the kinds of rituals and remembrances that help heal the irreplaceable loss. Grieving the death of a loved one is never, ever easy.
Suicide, however, has been described as a death like no other ... and it truly is. Death by suicide stuns with soul-crushing surprise, leaving family and friends not only grieving the unexpected death, but confused and lost by this haunting loss.
Who is a Survivor of Suicide Loss?
Despite science supporting a neurobiological basis for mental illness, suicide is still shrouded by stigma. Much of the general public believes that death by suicide is shameful and sinful. Others consider it a "choice that was made" and blame family
members for its outcome. And then there are people who are unsure how to reach out and support those who have lost a loved one to suicide, and simply avoid the situation out of ignorance. Whatever the reason, it is important to note that the underlying structure of grief for survivors of suicide loss is intricately complicated.
When someone dies by suicide, research shows that at least 6 people are intimately traumatized by the death. Those who are directly affected include immediate family members, relatives, neighbors, friends, fellow students and/or co-workers. And because 90% of people who die by suicide have a psychological disorder, mental health clinicians are also included as a survivor of suicide loss. From the nearly 800,000 suicides reported from 1986 through 2010 and using the 6 survivors per suicide estimate, it is believed that the number of survivors of suicide loss in the U.S. reaches 5 million people.
Understanding Suicide
Based on the accounts of those who have attempted suicide and lived to tell about it, we know that the primary goal of a suicide is not to end life, but to end pain. People in the grips of a suicidal depression are battling an emotional agony where living becomes objectionable. Most people who die by suicide have a significant depression narrowing their problem solving skills. Corrosive thinking reduces optimism, the hope of possibility and increases feelings of helplessness. The depressive illness itself makes it virtually impossible to hold onto any semblance of pain going away. While some may argue that a person who dies by suicide has done so by their own choice, I argue that serious mental illness, in fact, limits choice. Studies of those who have survived their suicide attempt and healed from their depression report being astonished that they ever considered suicide.
Why Grieving is Different
Research has long known that suicide survivors move through very distinctive bereavement issues. Family and friends are prone to feeling significant bewilderment about the suicide. Why did this happen? How did I not see this coming? Overwhelming guilt about what they should have done more of or less of —become daily, haunting thoughts. Survivors of suicide loss often feel self-blame as if somehow they were responsible for their loved one's suicide. Many also experience anger and rage against their loved one for abandoning or rejecting them —or disappointment that somehow they were not powerful enough, loved enough or special enough to prevent the suicide.
These mistaken assumptions plague survivors of suicide loss for a very long time. Many struggle for years trying to make sense of their loved one's death —and even longer making peace —if at all —with the unanswerable questions that linger.
As such, survivors of suicide loss may encounter blame, judgment or social exclusion - while mourners of loved ones who have died from terminal illness, accident, old age or other kinds of deaths usually receive sympathy and compassion. It's strange how we would never blame a family member for a loved one's cancer or Alzheimer's, but society continues to cast a shadow on a loved one's suicide.
What also makes grieving different is that when we lose a loved one to illness, old age or an accident, we retain happy memories. We can think back on our loved one and replay fond memories, share stories with joyful nostalgia. This is not so for the suicide survivor. They questions the memories, "Where they really good?" "Maybe he wasn't really happy in this picture?" "Why didn't I see her emotional pain when we were on vacation?" Sometimes it becomes agonizing to connect to a memory or to share stories from the past —so survivors often divorce themselves from their loved one's legacy.
Survivors of suicide loss not only experience these aspects of complicated grief, they are also prone to developing symptoms of depression and post-traumatic stress disorder—a direct result from their loved one's suicide. The unspeakable sadness about the suicide becomes a circle of never ending bewilderment, pain, flashbacks and a need to numb the anguish.
Ways to Help a Survivor of Suicide Loss
If you know someone who has lost a loved one to suicide, there are many things you can do. In addition, by reaching out, you also help take stigma out of the equation. Don't be afraid to acknowledge the death.
Extend your condolences, express your feelings of sorrow. Make sure you use the loved one's name. "My heart is so sad that John died." Many who have lost someone to suicide have a broken heart, clinically called Stress Cardiomyopathy, and really need your empathy, compassion and understanding to heal.
Ask the Survivor if and how you can help. Though they may not be ready to accept help, asking signifies that you are there—not avoiding or distancing during this tragic event. The notion of being there if needed is extremely comforting for survivors.
Encourage openness
Be accepting of however survivors need to express their feelings. It may be with silence, with sadness or even anger.
Be patient. Don't set a time limit for a survivor's grief. Complicated grief can take years to process. Moreover, don't limit a survivor's need to share and repeat stories, conversations or wishes. Repetition is a key factor in grief recovery.
Listen. Be a compassionate listener. This means don't look to fix things. The greatest gift you can give someone you care about who has survived a suicide loss is your time, reassurance and love.
Ways to Help Yourself if You're a Survivor of Suicide Loss
Ground yourself : It may be very painful, but you must learn to hold tightly to the truth that you are not responsible for your loved one's suicide in any way, shape, or form.
Don't put a limit of your grief.
Grieve in your own way, on your own time frame. It will take time to find a place for your sadness and loss. It may take even more time for you to feel hope again and envision possibilities.
Plan ahead.
When you feel ready, assist your family in finding ways to mark your loved one's birthday, family holidays or other milestones. Understand that new moments, experiences or events will be met with sadness, even with emotional setbacks. Preparing for how you will move through these calendar dates will help minimize traumatic reactions.
Make connections
. Consider joining a support group specifically designed for survivors of suicide loss. The environment can provide a mutually supportive, reassuring healing environment unlike anywhere else.
Give yourself permission.
To cry. To laugh. To seek professional help if you need it. Remember that you are moving through the most difficult of losses—and you can take control of the path to healing.
---
---
A friend is someone who understands your past,
believes in your future and accepts you today the way your are...
Sometimes the best thing you can do is not think,
not wonder, not obsess.
Just breathe and have faith that everything will work
out for the best.
Contributed by Melinda White
---
---
Explaining Suicide To Children : Shattered Hearts
Suicide is frequently a sudden, surprising and shocking death that leaves family members reeling in disbelief and heartache. Suicide is akin to lobbing an explosive into the middle of the family. There is enormous collateral damage.
For children, the death of a parent is a traumatic event, which is especially intensified for young children. However, when the death is a suicide, the trauma is heightened even more.
Suicide is the hardest death to accept. There are so many unanswered questions.
Young children do not readily understand the concept of suicide. They might ask, "What is suicide?" Once the child
has some grasp on the meaning of suicide, there will be the inevitable "why?" question that wracks every survivor, young and old, of a suicidal loss.
Suicide opens Pandora's Box. Children want to understand why their parent made that choice and why their parent did not choose to stay with them. Did I do something to make this happen? Is it my fault? Didn't Daddy love me enough to want to stay? If I had loved her more, would Mom have stayed?
It's crucial for children to be given an age-appropriate answer. The younger the child means the simpler the response with fewer details, understanding of their parent's death so that they can begin to make sense of this terrifying loss and, over time, integrate this seminal event into their psyche. When we are in serious pain, we will do anything to minimize or eradicate the pain. Suicide is a choice, made at that moment in time, to end the agony of a life. That agony clearly has nothing to do with the child, but the pain of the parent's life. Suicide is often prompted by haywire neurochemicals, mental illness, profound physical pain, substance abuse and/or trauma. In other words, the parent was under extreme duress, which influenced their thinking and their actions.
Suicide is a mental health issue. With children, it can be helpful to use the idea of sickness because children readily understand this. Because suicide is both traumatic and considered complicated grief, there is the possibility that the child could become emotionally frozen. As a result, their development stalls and they can have increased difficulties socially and at school, which can set the stage for long-term repercussions.
At the funeral, the priest said my Daddy died because he was sick. My Daddy didn't have cancer. The priest said what my Daddy had was a mental illness. He said my Daddy tried very hard not to be sick, but it got the better of him. I liked that the priest said that. I didn't have to explain it to anybody.
Because suicide is both traumatic and considered complicated grief, there is the possibility that the child could become emotionally frozen, i.e., their emotions are frozen at the time of trauma like a solid block of ice with no movement and no flow. As a result, their development stalls and they can have increased difficulties socially and at school, which can set the stage for long-term repercussions.
To heal from the trauma, loss, and grief, the primary focus is to encourage the child to express their feelings. This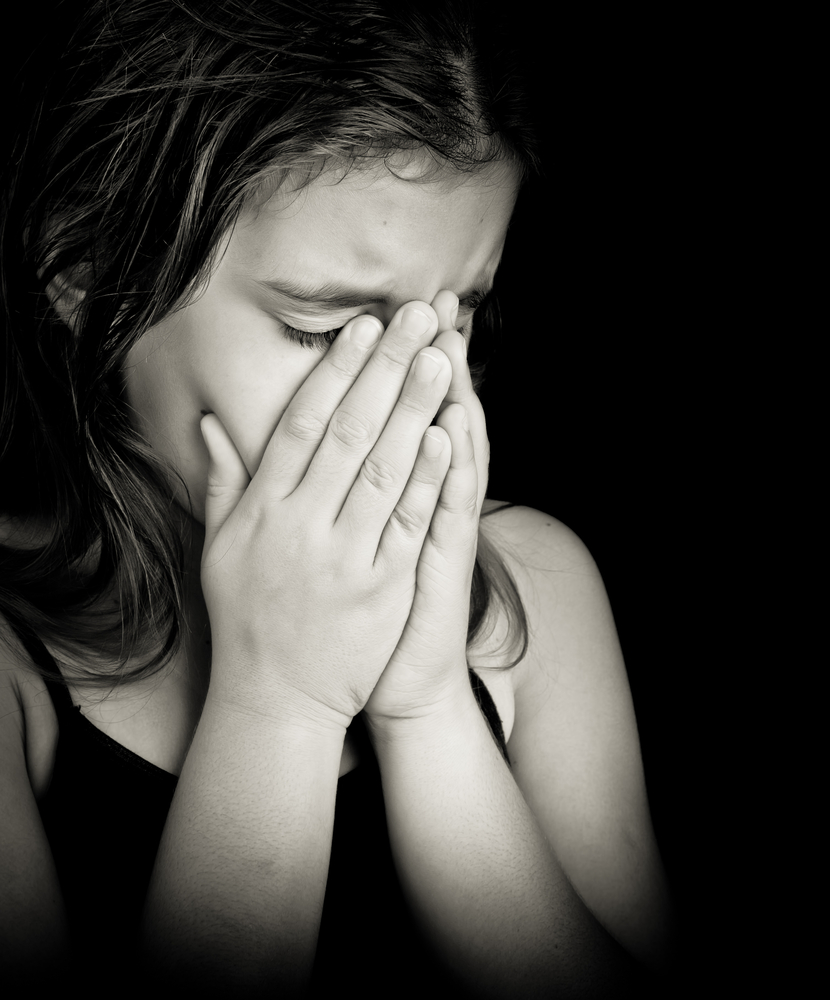 can be done through physical activity, arts and writing projects, all things creative and, with older children, involvement in acts of service, like a walk to raise money for mental health resources.
Children of suicide are often very angry : How could you do this to me? Why did you leave me? Because of you, my life is all messed up, why aren't you here?
They have greater fears and anxiety : How can I remember my Mom better? How can I make sure I never forget my Dad? Will I be left alone?
Children of suicide show more depressive symptoms : Why am I so sad? Will I be this sad forever? When will it stop hurting? You tell me they are in a better place, I want be with them. If I kill myself too, will I see my Mommy again?
They have a pronounced fear of death : You always said I am just like my Daddy, am I going to die this way? Are you going to die too?
There can be denial : Marissa didn't want to believe it. It couldn't be true. Not her dad. She told everyone her dad died of a heart attack, but, it was actually a suicide.
Why is everybody acting so weird? How come nobody wants to talk about my Dad's death? What do I tell the kids at school? Why do people look at me funny at school? Or whisper about me and my family? Will some of my friends even avoid me now? Why do I feel all ashamed and embarrassed, I didn't do anything wrong, did I?
It is not easy to lose a parent under any circumstances, but to lose a parent to suicide is incredibly difficult. Suicide by a parent leaves a very frightened and terrified child who is struggling mightily for emotional survival. Gently encourage your children to express all of their feelings —the good, the bad and, especially the ugly. Reassure your bereft little ones that they are not alone. Yes, this is tough. Yes, we are all sad. Yes, it's OK to laugh at a silly movie tonight and cry tomorrow. There is no perfect way, but by being open, honest and vulnerable with your children, you will navigate this slippery slope.
Above all, show the children that although we cannot control what happens, we can learn how to manage our reactions. It takes time and patience and tenderness to pick up all the pieces of a child's shattered heart.
---
---
CORONER : Data and Dialogue are Part of Suicide Prevention Strategy
Before she became McLean County, Illinois, coroner last year, Kathy Davis was aware people died too often from suicide, but now it's her goal to try stopping it.
As a nurse practitioner, Davis saw the devastation families endure when a loved one takes his or her own life.
Her work in the emergency room of Advocate BroMenn Regional Medical Center, combined with research she shared with students as a nursing instructor, is the foundation for Davis' initiative to lower the number of suicides in McLean County.
"Our goal is to save lives. We want to strengthen the idea that prevention is possible," said Davis.
Working as part of a team, the coroner can play an important role in addressing the 15 suicides reported so far in 2015 in the county, said Davis. The effort starts with data collection and engaging local health care providers in a discussion about those numbers.
"We want to see how we can translate the data into a dialogue and a prevention effort," said Davis, who has talked with the Community Crisis Planning Group about the development of a prevention plan.
The group of mental health and health care providers began meeting last year as part of the effort to improve community mental health services, including a better response to people in crisis.
"Suicide prevention is at the core of what we do," said Laura Beavers, coordinator of behavioral health service for the McLean County Health Department and a member of the planning group.
"The coroner's perspective and educational background has been very helpful," said Beavers.
The expansion of that dialogue beyond professionals is a key element of a prevention plan, said Davis. The long-held belief that suicide is a topic too sensitive to share with others must change.
"We want people to get involved and talk to others about suicide, ask what they can do," she said. Data compiled by her office is a starting point, but work done at the state level also should be part of the local initiative.
Recently, Davis joined the Illinois Suicide Prevention Alliance, a group of stakeholders from the public and private sectors working to develop the Illinois Suicide Strategic. A partnership that includes law enforcement, schools and health care providers is necessary to build an effective prevention program, said Melaney Arnold, spokeswoman for the Illinois Department of Public Health, organizer of the state alliance.
"Suicide is a complex issue with multiple, interrelated causes rooted in both the individual and the environment," said Arnold.
"While much is known about suicide, there is still much more to learn," added Davis.
"One thing we know about suicide is that it can happen to anyone. The issue crosses all socio-economic lines. As a community, I believe we can pull all our resources together and get some answers that will help prevent more deaths," she said.
---
---
We walk through the valley of the shadow of death —yes.
But we must remember that where there is shadow,
there too, has to be light.
---
---
SURVIVORS OF SUICIDE LOSS - NEW MEXICO
A SUPPORT GROUP FOR THOSE WHO HAVE LOST SOMEONE THEY LOVE BY SUICIDE
---
---
TWO MEETINGS EACH MONTH
1st and 3rd MONDAY
7:00 - 8:30 p. m.
SHEPHERD OF THE VALLEY PRESBYTERIAN CHURCH
1801 MONTAO RD. NW - ALBUQUERQUE, NM 87107
---
---
MEETING INFORMATION Al & Linda at 505 / 792-7461
E-mail : This e-mail address is being protected from spambots. You need JavaScript enabled to view it "> This e-mail address is being protected from spambots. You need JavaScript enabled to view it
"Know That You Are Not Alone — Sharing Can Be Healing"
Sharing and Healing is © by SOSL-NM
Non-Profit : #NM ID 4996054
Non-Profit : FED : 501-c-3